2-3 Man Tents
Best Sellers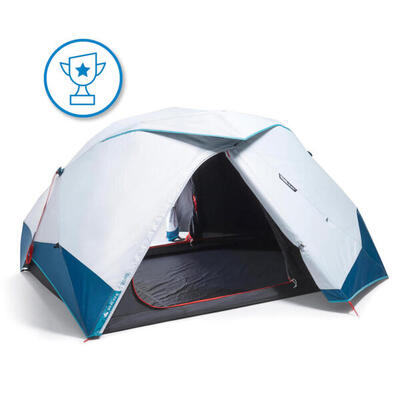 No need to describe the famous 2 Seconds tent: you throw it up into the air and it unfolds on its own. We know that many of you had difficulties in folding back up this tent, so that's why we have innovated it with the Easy system. It allows you to fold the tent up much easier and faster than before. Only one person is needed to pitch these tents. If you want to go camping alone or with one or two people, 2 Seconds tents are the ideal compromise between: price, space and pitching/folding-up speed.
Small camping pole tents
Classic pole tents, called Arpenaz in Quechua, allow 2 people to go on holiday at a low cost. The pole mounting system has been designed so that a single person can pitch their own tent. The structure of the tent is self-supporting, that is to say that it holds in place without having to use pegs. Little tip: for it to hold in place better, do not pull too hard on the guy ropes when fixing your tent to the ground with sardines (tent pegs).
Small inflatable camping tents
Inflatable tents come from a recent technology based on an all-in-one inflatable structure. The inflatable arches that make up this structure are called Beams and are extremely resistant. Thanks to the air-based structures, these tents are much more spacious than the 2 Seconds tents and pole tents. But they are just as resistant to wind and rain.
Fresh & Black technology by Quechua
We created the Fresh & Black technology which consists of two main fabrics of four different layers: the fresh fabric and the black fabric. The fresh fabric reflects the sun's rays in order to obtain a lower interior temperature of around 17 ° C compared to a standard tent. The black fabric allows light to be reflected in order to guarantee you 99% darkness inside your tent. We know how important sleep is, especially when camping or on bivouac. Our fresh & black technology will allow you to have a good night's sleep in your tent.