WHAT IS THE CYCLE TO WORK SCHEME?
The Cycle to Work Scheme is a revenue scheme which aims to encourage employees to cycle to and from work. Under the scheme, your employer can purchase the bike and safety equipment for you, and is then deducted from your salary before the tax, over an agreed period of up to 12 months. Employees can save up to 52% of the cost of a new bicycle and safety accessories, depending on their tax brackets. It is up to each employer if they would like to take part in the scheme. The maximum amount that is covered by the scheme is €1250 for push bikes, and €1500 for electric bikes. Employees can only purchase 1 bike using the scheme every 4 tax years.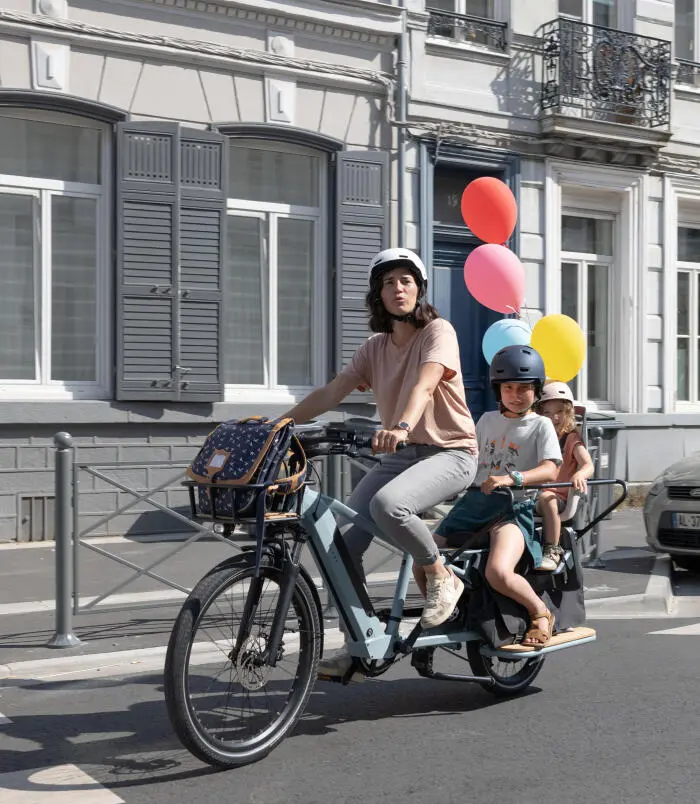 Save between 29.5% and 49.5% off the price of the Cargo bike up to €3000 or for a normal bike €1250 or €1500 for an electric bike depending on which tax bracket you fall under.
The saving applies to all Pedal Bicycles, Electrically Assisted Bicycles and Safety Equipment/Accessories.
Save on monthly fuel, parking, and public transport costs.
Beat the traffic; cycling is twice as fast as a car in commuter traffic.
Decathlon has a large range of Safety Equipment, Accessories and Cycling Equipment to ensure you are safe and seen when cycling to work.
Receive expert advice on bike models, styles, size etc. to best suit your needs.
WORK SCHEME Information Q&A
What bikes and accessories are included?
The scheme covers new pedal and electric bikes, as well as the following safety equipment if purchased with the bike;
Cycle Helmets

Cycle Mudguars

Lights

Hi Vis Vest 
What are the steps?
At Decathlon Ireland, we can offer the Cycle to Work Scheme in 4 different ways.
1) If your company issues payments by a direct bank transfer to Decathlon
2) If payment is made using a company credit card
3) If your company is signed up with TaxFreeBicycles
It is important to check with your employer how they operate the scheme, as Decathlon currently do not work with any third party cycle to work initiatives that are not mentioned above, such as BiketoWork (TravelHub), cyclescheme.ie, and Tax Saver Bicycles.
We can offer this scheme on any bike that we have in stock in store which costs a minimum of €300. Our full selection can be seen on our website www.decathlon.ie. There is a button below each product saying 'check our stores'. This will show the stock levels in our Ballymun store.
If a certain bike is out of stock in store, please let us know and we can try our best to order it for you.
Once you have selected your new bike and accessories, please email the below information to;
Dublin: cycletowork.dublin@decathlon.com
Limerick: cycletowork.limerick@decathlon.com:
Name:

Mobile:

Email:

Employer Name:

Employer Address:

Reference codes and sizes of bike and accessories:

How your company will process order/pay:
Alternatively, the bike and accessories can be selected in store with our team.
Then, we will send you a pro forma invoice by email.
- If your company is making a direct payment (bank transfer / cheque), please pass the pro forma invoice on to your HR in order for them to make the payment. As soon as we receive the payment, we will contact you and arrange a collection of your new bike as soon as it is fully assembled by our mechanics.
-If your company works with TaxFree Bicycles, please log into their website, where you will be able to upload the pro forma invoice. Then, once it is approved by your HR, you will be issued with a voucher. When you have the voucher, please email us at cycletowork.dublin@decathlon.com or cycletowork.limerick@decathlon.com, and we will let you know when the bike is ready for a collection. When you visit the store, we will exchange the voucher for your bike and accessories.
If you have any additional questions, please do not hesitate to contact us at cycletowork.dublin@decathlon.com or cycletowork.limerick@decathlon.com.